Ace Shaped Bottle Cap Opener
Ace Of Spades Bottle Opener Credit Card Size Poker Cap Opener Portable Stainless Steel Can Opener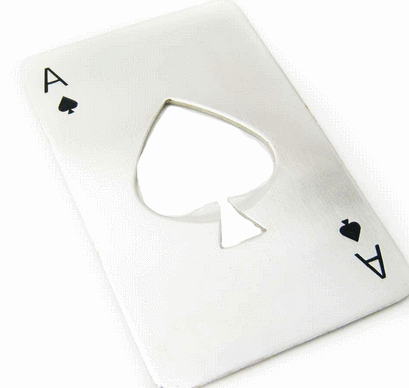 Card shapes opener cap is easily stored in a wallet or other small space. It is at your fingertips whenever you need it.
The fancy ace of spades bottle opener design is not only unique, but super functional too. You simply put your beer bottle in the center of the opener and pop goes the cap at bartender speeds. Fancier and faster than a wall mounted bottle opener
It's made Made from heavy duty stainless steel Made from heavy duty stainless steel, Measures approximately 2 x 3.25-inches
Need help with any of the query?

 

Rest Assured to US.
Call OR Whatsapp Us: +91 9898666916 (MON-FRI 11 AM to 5 PM)
Email:
shop.homemayor@gmail.com
 (RECOMMEND)
Or Please fill out this form we will contact you regarding any of the concern within 24-48 hours. 
OUR MAIL ADDRESS
MANMADHU ENTERPRISE
ADDRESS - 7, DEVPRIYA PART1, 100 FT ROAD ,ANANDNAGAR ROAD
AHMEDABAD PIN CODE - 380015